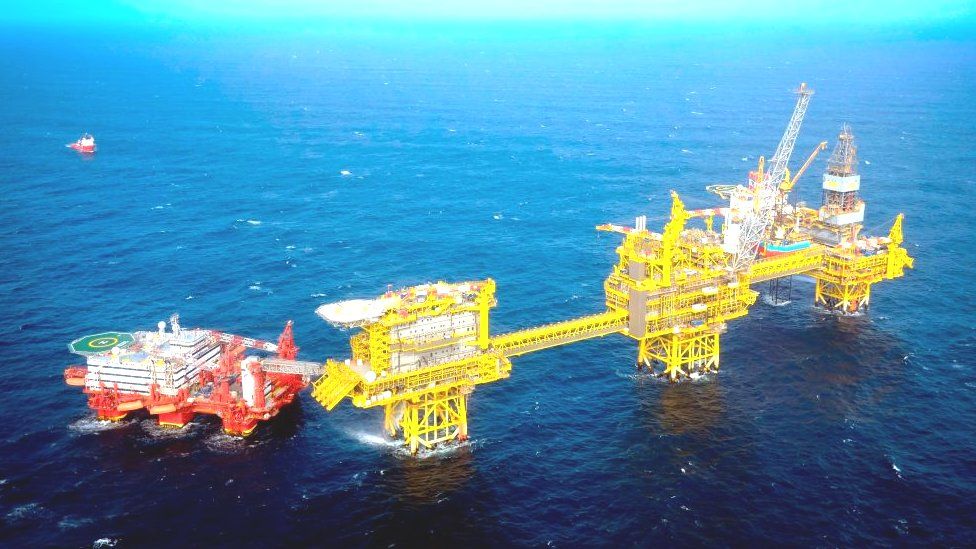 Energy firms warn of UK oil and gas dependency
Report by BBC NEWS
The UK could be wholly dependent on imports of oil and gas within 15 years without political backing, the industry body has warned.
Ten major oil and gas projects worth up to £3.5bn are close to starting.
But Offshore Energies UK (OEUK), which represents the oil and gas industry, is warning about a lack of government commitment to the industry's future.
It comes amid pressure for greener energy solutions and calls for a windfall profits tax on producers.
OEUK says there could be import dependency by 2037 without the confidence to invest in the next year.
But with more commitment to the industry, and if prices hold up, the decline in output from UK waters could be limited to 5% per year, it suggests.
The message, issued in OEUK's annual business outlook, is aimed at the UK government which is drawing up an energy security strategy, with publication delayed probably until next week.
Deirdre Michie, the trade body's chief executive, says that energy security had become a matter of national security – with Russia's invasion of Ukraine, and with European countries eager to replace their dependence on Russian oil and gas.
The UK government has said energy security is its "absolute priority".
The Scottish government has shifted its energy policy towards a strong bias for renewables, while the SNP backs a windfall tax if it is spread across other highly profitable companies.
Green MSPs are partners in the Holyrood administration and want to see an end to drilling for oil and gas.
The party's energy spokeswoman Maggie Chapman said UK government funding should instead be directed "to develop Scotland's huge renewable energy potential".
The Labour Party has called for a windfall tax on oil and gas producers, to help offset the cost-of-living crisis.
OEUK wants to see cross-party support for the industry, and from different layers of government.
Last year, the UK sourced 43% of its demand for natural gas from its own waters and 32% of its oil consumption.